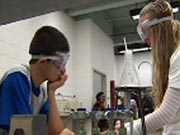 Charlottesville middle schoolers got a college education Friday. As a part of the "Day in the Life" program, 30 students from Buford Middle School spent the day hanging out with University of Virginia students.
Members of the Phi Sigma Pi Honor Fraternity led them through experiments in the chemistry lab. When asked how she felt about the day, eighth grader Quentillia Oliver said, "Happy that I would miss school, but then when I got here and learning what we would do it's kind of fun because I get to do things I've never done in a science lab. "
The program was started several years ago to help ease tensions between the community and UVA and show young people what college is like. Many of the students involved have grown up in Charlottesville, but never set foot on Grounds before Friday.