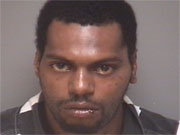 A man is under arrest after police say he stabbed and killed a man and injured another in Charlottesville Tuesday. It happened around 4 p.m. in the 400 block of Second Street near Friendship Court.
Police say they found two men seriously injured with stab wounds when they arrived at the scene. Authorities say 26-year-old Lamont Jermaine Blakey stabbed Joshua Lee Gibson, 20, in the chest and James Edward Brown, 44, in the side. Gibson later died at UVA Medical Center. Brown is in stable condition and is expected to be okay.
The incident started as a fight over a woman, according to Charlottesville spokesman Ric Barrick. Eyewitnesses say Blakey went into a nearby house, returned with a large knife, and stabbed Gibson in the chest.
Blakey faces first-degree murder and malicious wounding charges. He is being held at the Albemarle-Charlottesville Regional Jail.