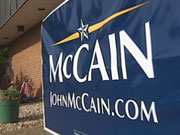 Albemarle County Republicans announced Saturday that they are opening a John McCain Victory Office.
The GOP says Sarah Palin's vice presidential nomination and the ticket's success in the latest polls prompted the party to add Central Virginia to the list of McCain headquarters. The new campaign spot will coexist with the current GOP office in the Albemarle Square Shopping Center.
McCain supporters are competing with Barack Obama's 40-plus offices in the Commonwealth, including two in Charlottesville. But Albemarle Republican Chairman Christian Schoenewald says the GOP's numbers are growing.
"In the wake of that wonderful polling result, we're opening up several more victory offices, not only in Charlottesville, but in several other locations around the Commonwealth."
Several polls, including the latest Gallup Poll, show McCain maintaining a five-point lead over Obama, something the newest office hopes to build on. "We will be doing ongoing phone-banking, ongoing door-to-door, more materials into the areas, signs, bumper stickers, things like that," Schoenewald said.
Right now the McCain campaign has fewer than 15 offices in Virginia, but that number is expected to grow in the next few weeks.