Vic Hall Does it All!
Posted:
Updated: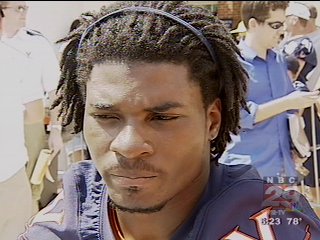 Reported by Chuck Wade
August 18, 2007
Vic Hall stands just five feet, nine inches tall. Soaking wet, he weighs in at just a shade over 180 pounds. Yet his contributions to this year's Cavalier football team could be monumental.
Hall was a standout quarterback at Gretna high school, and worked for a brief period of time as a QB at Virginia. He soon moved to the defensive side of the ball, and last season he took part in each of Virginia's 12 games.
Tied for the team lead in punt coverage tackles, Hall will still take a major role this year on special teams. He is the holder on all Virginia place kicks. He'll still track down punts on defense, and could be returning a few as well. His role on Virginia's defense has increased as well, as he's been in tough competition for a starting position in Virginia's backfield.
Regardless of where he's playing, and what he's doing, Vic Hall has impressed everybody that's had a chance to check him out this season.
Head Coach Al Groh said this about Hall, "Whether it's to be a holder, to be quarterback, a cornerback, to be a punt returner, to be a student, Vic's in the forefront of everything."
"If you want to help your team then you have to be willing to help them and that's what I'm willing to do," added Hall.