Man Facing Pornography Charges
Posted:
Updated: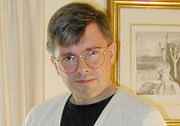 Reported by Henry Graff
January 5, 2007
A Greene County man with ties to a national organization that looks out for the interests of white people went before a federal judge Friday afternoon.
50-year-old Kevin Strom faces two charges including possessing child porn. Strom is reportedly the managing director of the Charlottesville-based group "National Vanguard".
Strom will remain behind bars Thursday night after going before a federal judge but he says the charges are bogus.
The court hearing inside this federal building was short and to the point Friday afternoon. Strom pleaded not guilty to two federal charges, including possession of child porn.
According to court documents, the charges stem from October 2005 through August 2006. Federal authorities say they found at least four pictures of child porn on Strom's computer with the file name "Karen."
Strom is from Stanardsville and neighbors say he moved into a house on Madison Road at the end of the summer. "He stayed to himself. If he was out in the yard with the kids, he'd throw his hand up. Other than that there were no words," said neighbor Charles Dickerson.
Neighbors say federal authorities raided Strom's house in December, seizing boxes full of evidence. They arrested Strom Thursday afternoon at that same house.
"It's kind of scary. That's why we don't have the grandkids come over. Or we always make sure they stay within the yard," stated Dickerson.
Strom remains in custody at the regional jail in Charlottesville. If convicted he could face 30 years in prison and a fine of up to $500,000.