Seminar Teaches Crime Prevention
Posted:
Updated: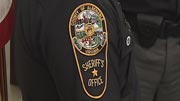 The seminar is being put on by the Albemarle County Sheriff's Office.
We are all vulnerable to being the victim of domestic violence or a crime of opportunity. The Albemarle County Sheriff's Office says it does not have to happen, if you refuse to be a victim.
The sheriff's office says people looking to commit a crime, whether it is theft or even a violent attack, do it because they think they can get away with it. Criminals prey on people who look vulnerable, but the sheriff's office says with the right frame of mind, you can stop that potential crime from happening in the first place.
Attorney Palma Pustilnik is with the Central Virginia Legal Aid Society.
"There is no typical victim of domestic violence," she said. "The more confident you are, the more that you believe that you have resources in the community, I believe the better armed you are."
Pustilnik is talking about resources like the Albemarle County Sheriff's Office's Refuse to be a Victim seminar. Reserve Deputy Linda Moore teaches the class along with fellow Reserve Deputy Robin Blanco. Moore says instances of domestic violence or crimes of opportunity can often be prevented with just a little confidence.
"People don't bother you as much when you're confident," she said.
The four hour class teaches men and woman of all ages strategies for preventing everything from bullying on a school bus to a purse snatching on a city street.
"It just gives you a lot of information, where different people pick out different parts that fit into their lifestyle, to make them safer," said Moore.
And most importantly, she says, do not let your guard down.
"Most predators look for easy prey," she said. "They want to get what they want, and get out, and not get caught."
The next seminar is coming up on February 12 and costs $15. For information on how to sign up, click here.