New Tourist Website Worth The Cost?
Posted:
Updated: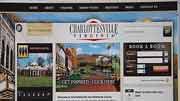 The new CACVB website cost $150,000, which has some wondering if it is worth the cost.
The Charlottesville Albemarle Convention and Visitors Bureau has a fancy new website to help draw tourists to central Virginia. However, given the $150,000 price tag, some in city hall and the county office building are wondering if it may be a bit too fancy.
The area's newest tool to lure tourists to the area, VisitCharlottesville.org, is now up and running, but it is doing so with a hefty price tag.
"$150,000 for an update, upgrade for a website, is a lot of money," stated Albemarle County Supervisor Dennis Rooker.
The Charlottesville Albemarle Convention and Visitors Bureau (CACVB) officially announced the new site on Monday, saying it is a much-improved site with plenty of bells and whistles.
"This is a huge addition to our arsenal to really go out and market Charlottesville and the greater Charlottesville region," said CACVB Executive Director Kurt Burkhart.
But many are wondering why it is costing so much money - money that comes from taxpayers in both Charlottesville and Albemarle County - for the first year and what will the costs be from here on out.
"If the local tourism board wants to get together a group of all the hotels and raise their own money and spend $150,000, that's fine and they should do it," said Rob Schilling, a former Charlottesville city councilor.
As perspective on the price, Albemarle County re-launched its website this summer; it cost $30,000.
"We have to remain competitive," said Burkhart. "If we're not, we're going to lose the sales to other destinations."
The visitors bureau points out that the money for the site came from the overnight bed tax levied on hotels, but the city gave the organization $571,000 this year and Albemarle gave them $603,000.