UVA Team Trying to Promote Sustainability on Grounds
Posted:
Updated: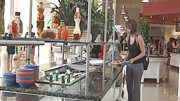 The University of Virginia is reaching out to faculty, staff, and students to figure out what it's doing right, what's not working and where to go from here in its efforts to promote sustainability on grounds.
The major push comes once every four years, and their sustainability team is introducing an online survey to help. It's also measuring its progress from 2006.
Sustainability Planner Andrew Greene is leading UVA's renewed efforts to be environmentally friendly. "Sustainability really is a shared effort," he said, "We're not going to become a sustainable institution with just one person in charge."
This summer, the university is assessing progress with its sustainability initiatives first outlined four years ago. New construction on grounds must now be lead certified, and food from the dining halls is saved for composting.
Sustainability Coordinator Kendall Singleton said, "The food waste actually goes through a machine called a pulper, and it's picked up by a UVA recycling employee on a daily basis and trucked out 8 miles to this farm."
Over five tons of waste makes the trip each week. Singleton said, "It's turned into this nutrient rich material that's ultimately put back into the soil and used to grow more food."
There's still a lot to do, and using more locally grown products on grounds, and training fellow Cavaliers to help their peers think green, are goals this time around. Greene said, "They would be in a building or department or office and they would serve as kind of the ambassador in a way to borrow that term for sustainability tips for their colleagues."
Greene says exploring new types of energy while finding ways to save electricity tops his list for 2010. Greene said, "It's not just on paper, there is a real organizational and environmental benefit to those changes."
The sustainability team will be collecting online data over the course of the next two weeks. From there they plan to work on outlining new goals and they hope to have them in place by the end of the year.