Hurt Wins 5th District GOP Primary
Posted:
Updated: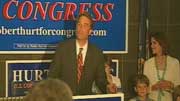 State Sen. Robert Hurt easily won the Republican U.S. House primary in Virginia's 5th District, pitting him against Democratic Rep. Tom Perriello in November.
With 58 percent of the vote counted, Hurt had 50 percent of the vote in a seven-way primary and a wide lead over his nearest rival, James McKelvey.
The 5th District had the highest voter turnout of all primaries in Virginia with just over 8 percent. Ken Boyd won just over 2600 votes district-wide with 1732 of those votes coming from Albemarle County, which Boyd won with 33 percent. Hurt finished 2nd with 24 percent in Albemarle.
Only 2.5 percent of voters turned out in Charlottesville, where Hurt had 194 votes, McPadden 130, and Boyd 117. Feda Morton won her home county of Fluvanna with 35 percent of the vote and Hurt edged out McKelvey for 2nd in Fluvanna by 3 votes 281-278.
Also, the only Republican congressman challenged in Tuesday's U.S. House primaries won easy nomination over a challenger who was a tea party favorite. With 66 percent of the vote counted in Virginia's 1st District, Rob Wittman had nearly 88 percent of the vote over Catherine Crabill.
Republicans turned out in tepid numbers Tuesday to choose nominees in five congressional districts.
Copyright 2010 by The Associated Press. All Rights Reserved.