Bears Climb Tree on Rose Hill Drive
Posted:
Updated: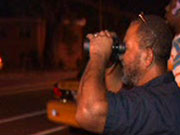 A mother bear and her two cubs caused quite a commotion in Charlottesville Friday night.
Police officers and lots of onlookers checked out the scene at the intersection of Rose Hill Drive and Henry Avenue. Three black bears apparently made their way up a tree, causing all sorts of excitement in the area.
"It's was exciting. It was very exciting to see them walking down the street. I was a little nervous at first so I ran to the porch. But once I got myself situated, I came back over to see them. It was very exciting. I've always wanted to see live bears," said Deborah Tyler, who saw the bears.
Police said the bears are not a threat to anyone but did rope the area off until the bears came down from the tree. The bears were out of the tree after a little over an hour and the police removed the ropes.
For a short time, the bears were seen again near Burley Middle School and then scampered off.
Reported by NBC29 HD News