Socialist Party Membership Drive
Posted:
Updated: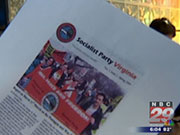 The Socialist Party is making strides to get on the ballot in central Virginia and the Shenandoah Valley over the next couple of years. A new local chapter planned out its party goals at a membership drive in Harrisonburg Sunday.
This is a nationwide activist group; here in central Virginia the local socialist group only has 14 members but they are hoping Sunday's meeting will help plot out big plans for expansion.
Members of the local Socialist Party of central Virginia met at a coffee shop in Harrisonburg to brainstorm. Chapter secretary Brandon Collins says he wants socialism to be taken just as seriously as the republican and democratic tickets.
Collins says one long-term goal is for a socialist candidate to be in the mix for the next congressional election. "We've been pretty active on healthcare lately," he stated. "We are going to talk about how to involve ourselves in the gubernatorial elections and statewide elections and just get a different perspective then what the two candidates have to offer."
Collins says that perspective includes promoting the rights of all workers, continuing work against militarism, and continuing support for single-payer Medicare for all. He says he'd like a socialist candidate on the ballot as early as next year.