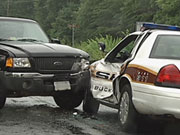 A Buckingham county sheriff's deputy was taken to the hospital after his cruiser was t-boned on Route 20 this morning.
Investigators say the deputy was turning onto Route 695 from Route 20 just after 9:30 this morning when his car was slammed into, on the driver's side, by a truck heading the other way.
The deputy was taken to the hospital as a precaution. He is expected to be okay. The other driver was not hurt.
There is no word yet on who was at fault in the accident and if charges will be filed.
Reported by NBC29 HD News