Group Refutes Dam Cost Savings
Posted:
Updated: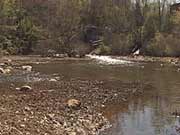 Opponents of plans to build a massive new dam at the Ragged Mountain Reservoir are holding a news conference casting doubt on the water and sewer authority's claims that new estimates dramatically lower the cost of the project.
The group, Citizens for a Sustainable Water Supply, is rallying near Charlottesville City Hall. Their message: "No more dam money."
The group is refuting the Rivanna Water and Sewer Authority's claim that "potential costs savings" have been discovered for a new Ragged Mountain Dam. The group says it believes the report says the savings will amount to point one percent of the total cost of the dam.
Those against building the dam say they have uncovered new potential costs as well.
Betty Mooney, with Citizens for a Sustainable Water Plan, said, "This is a scam right now. This is way too much money. It's irresponsible of our officials to approve any more money for a new dam."
RWSA has maintained that the dam is at the heart of expanding the water supply for the next 50 years. RWSA officials say they will have an estimated cost of the dam after they hire a designer and get more geological data. RWSA Executive Director Tom Frederick says doing this large scale project takes patience.
RWSA officials say they're still collecting all the information on the site before providing an new cost estimate.