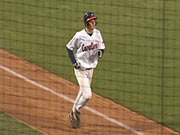 Of the eight teams in the College World Series, Virginia is one of two teams that didn't have the luxury have hosting a super regional.
The road warrior Wahoos have been college baseball's surprise story. The players say they're hungry and excited to be playing for a national championship.
UVA baseball player Franco Valdez said, "We're going to go out and play the game. We're not going to get caught up with the story lines, or get consumed with the amount of people there, we're just going to go out there and play the same we have since game one."

Virginia Baseball Head Coach Brian O'Connor said, "I can assure you this team is not satisfied with just going to Omaha. Our goal without question is to win the National Championship."
The Hoos will face LSU Saturday at 7 p.m. in Omaha, Nebraska.