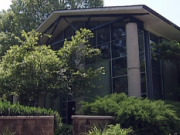 Part of the University of Virginia Children's Hospital has been named one of the premiere care centers in the U.S. for kids with brain injury.
The Kluge Children's Rehabilitation Center is now Virginia's leading center for brain injury care. The center was given that recognition by the Sarah Jane Brain Project, a national initiative to develop a pediatric brain injury plan.
As the state lead, the rehabilitation center will now be responsible for creating a statewide master plan for all juvenile brain injury patients in Virginia.