Unequal Treatment at the Charlottesville Pool?
Posted:
Updated: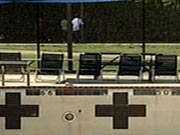 Charlottesville wants to charge private school kids, who live in the city, more to swim at public pools than kids who are home schooled or who go to public school.
The unequal treatment of taxpayers has critics fuming about City Hall's new policy. One critic says this decision blatantly discriminates against private school students, charging them more for a season pass at city pools. Former city councilor Rob Schilling says the basic principal of the student policy just isn't fair.
Currently, public and home schooled students can pay $20 for a season pass. Private school students have to pay anywhere between $4 and $19 more depending on their height.
"They try to justify this by diminishing the amount and therefore attacking the people who are raising the concern," stated Schilling.
Charlottesville City Spokesperson Ric Barrick said, "How can we produce a situation where we're removing barriers for those who, that use the system quiet often but might benefit from a reduced cost?"
Barrick says the city doesn't see a lot of traffic at the pools by private school students. He also says the parks and advisory board, who made the decision, will reconvene Wednesday to talk about the rates. According to Barrick, City Hall is now recommending that the rates be level for all city students across the board.