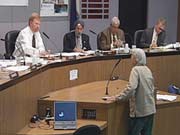 After outcry from the audience at a public hearing on Monday night, Charlottesville City Council voted unanimously to keep the wading pool at McIntire Park open.
The current designs for a Route 250 interchange would have come within 17 feet of the pool and city leaders considered closing the pool. Charlottesville residents spoke out Monday night to try to save the pool.
"It almost seems as if McIntire Park is being chiseled away one step at a time," said Pat Napoleon, who wanted to save the pool.
Virginia Germino, who also wanted the pool to stay, said, "Just about everything that is simple and ordinary is doomed: the little golf course, the tiny wading pool, the outdoor romping, the little picnics that families take there. This is the straw that breaks the camel's back."
Currently, VDOT is in the process of redesigning the interchange after council wasn't happy with the first round of choices. Charlottesville city councilors will now ask VDOT to tweak the design and create an interchange that can co-exist with the pool. Council could make the final design approval on the Route 250 Interchange as early as June.
The interchange isn't the only problem facing the pool. The pool is hemorrhaging water and the drains don't meet federal safety requirements. Council says those problems will be fixed so the pool can stay.
Two private citizens have come forward to pick up the more than $20,000 tab to fix the pool. Council is shelling out $23,000 to operate the pool.