Aging Forum Held in Charlottesville
Updated: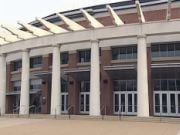 Dozens of seniors attended a forum on aging at the John Paul Jones Arena in Charlottesville Monday. Attendees learned about everything from how they age to how to stay healthy in the process.
Seventy-four-year-old Carol Hill says attending the fair is just one of the ways she stays active. "If you kind of go into a shell, it makes a lot of difference on how you perceive the outside world and how they perceive you," said Hill.
Hill says the afternoon presentations allowed her to learn about aging issues first-hand. Hill said, "It's really a time to get knowledge, it's almost like going to the library, except that now you can get these things by word of mouth."
Regina Carlson of the University of Virginia's Institute on Aging says Virginia's senior population will double by 2020 presenting new concerns for older citizens. "We're faced with social, economic and healthcare challenges that society has not faced before," stated Carlson.
They're challenges Carlson says come with a cost. "We want to help seniors with effective solutions for aging successfully and that includes not just health but being able to cover their costs," said Carlson.
Hill says she learned a lot from the forum, acknowledging that growing older is not always easy but that she is ready. "I don't really have too much sympathy for someone who is worrying about growing old, I mean it's a state of mind," said Hill.
The aging forum was sponsored by the Jefferson Area Board for Aging and the University of Virginia's Institute on Aging.