Deeds for Governor Headquarters Opens
Posted:
Updated: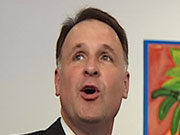 Democratic State Senator Creigh Deeds opened his state gubernatorial campaign office in Charlottesville Monday. The headquarters, located at 214 Ridge Street, is one of at least four offices that will be opening across the Commonwealth.
For the next three months the office will serve as a workplace for his staff, and a place where the community can come to find out more about Deeds. In making the decision, Deeds said Charlottesville was the only logical place to set up shop.
"Charlottesville is part of the area I represent and it ought to be where I'm running from. I can't run away from who I am, in fact I'm proud of who I am. I'm proud of the work I've done over the years," said Deeds.
Senator Deeds did get a late start in the campaigning process. While the General Assembly was in session he was dedicating his time to that, not the Governor's race, but he says that is not setting him back.
Deeds will face Brian Moran and Terry McAuliffe in the June primary.