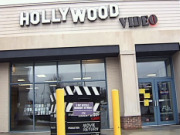 Hollywood Video of Charlottesville has officially closed its doors. Sunday was the last day to rent movies and games from the store in the Barrack's Road North Shopping Center.
All rented items that are still out must be returned to the drop box within the next five days.
Anthropologie, a women's clothing store, will replace the video rental business. Hollywood employees say additional details of the closing haven't been announced.
"We really have been kept in the dark as to why it's closing down for the most part," said employee John Jones. "Everyone's been saying that they're really sad we're closing down, and I've just had to tell them I don't know where they're going to rent movies."
Jones says all the items in the store are being packed and sent back to the corporate office.