Staunton's Newtown: Making a Comeback
Posted:
Updated: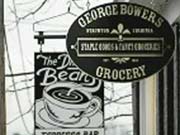 A rehabbed Staunton neighborhood is changing again. First came the home renovations and the people moving back in. Now, businesses are coming back to historic Newtown.
George Bowers Grocery first opened in 1881. It will re-open later this month. Brian Weidemann stocks the shelves at the grocery with private label and local fresh from the farm foods. He says the store will fill a need in Newtown for a grocer within walking distance of the blocks of restored homes in the neighborhood.
It's also right next to a new coffee shop and laundromat. A restaurant will soon fill the old corner drug store.
The city's economic development office says these small businesses are reviving old urbanism in Staunton.
"In many cases those are your traditional neighborhood businesses that people remember from the 60's, the small downtown store that serves its local customer. And it's just great to see that type of development that has really been the product of that redeveloping residential neighborhood," said Staunton Economic Development's Amanda Huffman.
The community micro loan fund, which started in January, has also spurred small business development in Newtown. The city expects its successful downtown business district will start to creep up West Beverley Street toward Newtown. Commercial vacancies downtown are the lowest they've been in several years.