Third Year for Sleepout for the Homeless
Posted:
Updated: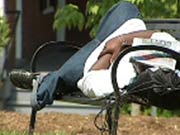 Students at the University of Virginia are giving up their warm beds and sleeping outside for the next seven nights. The "sleepout" will raise money for Charlottesville's homeless population. The 2008 Sleepout for the Homeless is at Brown College on UVA Grounds.
This is the third year in a row that groups at UVA are getting together to raise money for local organizations that help the homeless. Students get their friends and families, or even an organization or company, to sponsor them.
This year all the money raised will go to Charlottesville Health Access, which provides medical screenings and healthcare for homeless people in the city.
"It's about university students coming together and trying to serve a greater purpose than just being here at UVA. I mean, we're here for four years and we may be interlopers, but there's a lot outside of our little Charlottesville bubble that we don't see necessarily," said UVA fourth-year student Christina Polenta.
In the last two years, the sleepout has raised more than $15,000. A lot of groups and clubs at UVA have helped make this sleepout happen. If you want to help them, you can find out how on their website.