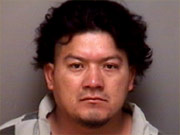 Adonis Molina Espinoza
Two men are facing charges Tuesday night after a fight in a parking lot. Twenty-eight-year-old Adonis Molina Espinoza and 21-year-old Raul Jimenez were both arrested in connection with the fight.
According to Charlottesville police, they were part of a group of people who got into a fight involving bottles and bats in the Outback Lodge parking lot early Monday morning. Three people were taken to the hospital with injuries.