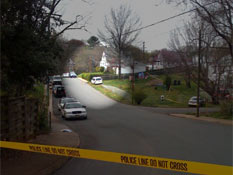 Van in Crime Scene - Captured by Henry Graff's iPhone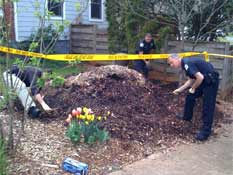 Police Search Yard and Say They've Found Gun - Captured by Henry Graff's iPhone
Three people are hospitalized after a bizarre shooting took place inside a van on Meade Avenue and Fairway Avenue in Charlottesville Tuesday afternoon. It happened around 3 p.m.
According to police, two men and one woman were riding in a white mini van when they began to fight. The vehicle then crashed in a yard on Fairway Avenue near the intersection of Meade Avenue.
An eyewitness said, "I thought they were just driving fast and all of this, but once I heard the gunshot then I knew something was really happening. So I stopped."
The two men were shot. One of them has non life threatening injuries. The woman suffered an ankle injury not related to the shooting.
All of the people were taken to the University of Virginia Medical Center. Wednesday, two people were released from the hospital. The third person is in critical condition.
Police interviewed them. Police did not say where the people are from, but did say the people are not from the neighborhood where the incident occurred.
Police say they found a gun in a mulch pile near the incident. Police are still investigating the incident and have not released the names of the people involved.