Home Invasion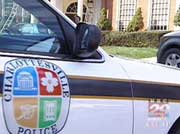 Reported by Christina Mora
July 20, 2007
One Charlottesville neighborhood is a little more cautious Friday night after robbers invaded a Park Street home and tied up a husband and wife.
Neighbors and police told NBC29 that area of Park Street is normally very safe, but Thursday night's events have definitely put people on higher alert.
A couple living at the 1100 block of Park Street was getting ready for bed when they heard their dog barking downstairs. When the husband went to check it out, one of the robbers hit him in the face with a gun and forced him to the floor. The wife came down and a second robber forced her to the ground.
They were then tied up and their mouths were taped. The suspects spent about 40 minutes ransacking the home.
Police say this sort of home invasion normally involves drugs. But not this one.
"We don't feel like this is that case at all. These were responsible members of our community and it's a highly unusual event. You might go 10 years without having an event like this occur in Charlottesville," said Captain Chip Harding with the Charlottesville Police Department.
The victims didn't get a good look at the suspects faces because they were covered up. The black male was wearing dark sweats with a dark ski mask. The white male was wearing a black hooded sweatshirt with a green bandana. Both are around five-foot-ten inches tall.
If you have any information on this incident, police ask that you call Crime Stoppers at 434-977-4000.