Bikers Voice Concern over Busy Streets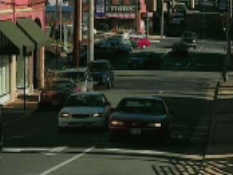 Reported by Melinda Pryor
December 11, 2006
Staunton's plans for a greenway are taking shape. But one group of citizens is putting the brakes on the project.
The greenway will be a series of hiking and biking paths from the Frontier Culture Museum to downtown Staunton. In some public meetings on the project, bikers voiced their concerns for riding on Staunton's busy streets. They say the city needs to make the public aware of their presence and the city agrees.
"We would work with VDOT if the lane's already available. It would just be a remarking, restriping or a signage-share the roads with bicycle," stated assistant city manager Shawn Maddox.
The bike paths on Betsy Bell Mountain are set to open in the next 30 days. Mary Gray Mountain is also being marked for hikers. They're both part of the first segment of the greenway.
City leaders say to look out for more public meetings on the project.