Police Investigate Fatal Hit and Run
Posted:
Updated: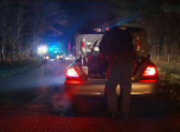 Reported by Annie Scholz
November 3, 2006
It began around 1 a.m. with a broken down car and a call for help. One hour later, Barboursville resident Justine Abshire was lying in the middle of the road--dead. Friday night, the woman who dialed 9-1-1 told NBC29 what she saw.
"Around 2 o'clock this morning a man came banging on the door and I hollered for my grandma to get up and open the door," said Amber Lamb.
Lamb would soon discover it was no ordinary wake-up call. "She came and opened the door and the man said will you please call 9-1-1, my wife got hit by a car and I think she's not alive," stated Lamb.
That man told authorities that his wife had called him just an hour earlier saying she was having car trouble and needed him to pick her up on Taylorsville Road in Orange County. When he arrived, he found his wife dead in the middle of the road, more than 100 yards away from her Ford Mustang.
"I came outside with him and he said he was going back up where his wife was and I came outside and called 9-1-1 and told them where he was at and went back inside," said Lamb.
Investigators are not sure at this point how Abshire's body ended up so far away from her car. Lamb says she doesn't have any clues: "I didn't hear anything outside from her getting hit."
Greene and Orange County authorities are assisting state police in the investigation. Right now they tell NBC29 they are following up on several leads.
Count on NBC29 to bring you the latest information on this case as it becomes available.