Company Making Antique Airplanes
Posted:
Updated: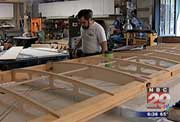 A Keswick company is in the process of making two British airplanes that haven't been built since the early 1900's. Blue Swallow Aircraft is building two Avro 504's. There are tens of thousand of parts being cut and pieced together, said John Gaertner, owner of Blue Swallow Aircraft.
Avro 504's were originally built from 1914 to 1927 and were used primarily to train pilots.
"Any part of the British Empire had these planes being used and they were still being flown at the beginning of World War II which no other bi-plane has that claim to fame," said Gaertner.
It takes about two years to build an air-worthy antique airplane like the Avro 504. Each part is handmade at Blue Swallow Aircraft because they're simply not manufactured anymore. One wing rib alone has 30 pieces in it and there are 110 wing ribs in all.
"You can't buy instruments, this is a modern instrument, an inclinometer and it tells the pilot whether he's slipping and sliding in flight. They don't exist anymore, so we made our own patterns and we cast them our self," said Gaertner.
Blue Swallow Aircraft builds historic planes for private enthusiasts and for museums. Knowing how to build them is an art. Jonathan Fallon works as an airplane mechanic for the airlines and drives from North Carolina once a week to learn how to build old airplanes.
"I'm learning a bunch of different things that in school, this is stuff they just touched on because most airplanes today aren't made out of wood and fabric anymore so this has really become a specialized area of aviation maintenance," said Fallon.
Getting your hands on an historic aircraft isn't always cheap. A plane like the Avro 504 costs roughly $225,000 to $250,000.

To learn about building historic airplanes, Blue Swallow Aircraft is having an antique woodworking class on September 12 and September 13.