Monticello Hosts ROTC Competition
Posted:
Updated: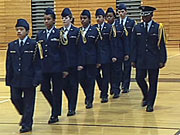 Junior ROTC squads came from all across Virginia, Maryland and West Virginia for an annual competition at Monticello High School on Saturday.
Cadets marched, stomped and saluted with straight-faced military precision. The day wrapped up weeks of hard work for the potential future soldiers.
"I'm just nervous and scared," said squad commander Tyreese Pinkney with C.D. Hylton High School. "If I mess up, everything will come down on me."
But you couldn't tell by watching Pinkney lead his cadets from Dale City around the floor at Monticello High School.
Junior ROTC squad members say these programs prepare them for high-pressure situations in everyday life. "Specifically we're teaching leadership skills," said Lt. Col. Elizabeth Lassiter with Monticello High School. "Everything you saw today was organized and set up by the cadets themselves."
Only about three percent of junior cadets nationwide join the military. But that number could increase, especially as the economy struggles.
The University of Virginia's Air Force ROTC program has seen a 25 percent jump in applications. "We used to average about 80 scholarship interviews a year. This year we had pretty close to 100," said UVA ROTC Col. Dan Doty.
Lassiter says these junior programs are not designed to recruit kids into the military but to teach them discipline, integrity and citizenship. And that's just the beginning.
"I'm preparing them for service to the community in whichever way they want to do it," Lassiter said.
Some of the cadets plan to find that service in the military.
"I'm going to go to college and do ROTC there, and then go into the military," said Monticello High School senior Tesla Goodrich.
Added Pinkney: "I'm a football player, and if my football career doesn't go as I planned, then I'm going to the military."