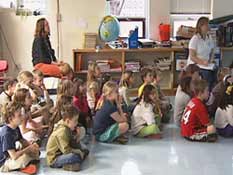 A group of Albemarle County students got a special lesson Friday in the world's most spoken language.
University of Virginia students taught the Broadus Wood Elementary students the basics of Chinese. The kids learned how to count from "one" to "10" in Chinese, as well as how to say "hi."
One UVA senior explained the importance of such lessons: "We're doing a lot more with China and I think it's going to be really important in the future to know how to speak it, and it's good to get them started young."
The students also learned about Chinese history and the origin of the Zodiac calendar.