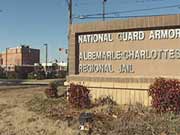 The Albemarle Charlottesville Regional Jail is in danger of losing its prison ministry.
The Good News Jail and Prison Ministry needs $67,000 to run, and it barely made budget last year. This year the ministry hasn't been meeting budget at all.
Albemarle County Sheriff Chip Harding is helping lead the fund raising charge. "Primarily the ones I've seen change their lifestyle, they did it through this ministry," said Harding about the inmates and prison ministry.
Chaplain Alonzo Minor said, "Without Good News being here, you're just warehousing people and they come back the same way they came."
The ministry brings in about $250,000 of cost-free counseling services to the jail.
Donations can be sent to:
Good News Jail and Ministry
Box 2844
Charlottesville VA, 22902-2844