Downtown Mall is Making Transitions
Posted:
Updated: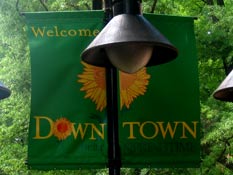 Storefronts are empty, businesses are changing hands, and a major brick overhaul is underway. A lot is happening on Charlottesville's Downtown Mall these days.
City sponsored block parties are supposed to bring crowds out on a Friday night, give businesses a little boost, and bring attention to Charlottesville's unique atmosphere of local businesses that are going through all kinds of transition.
The city of Charlottesville reports that 94 percent of store space on the mall is occupied. Spaces that formerly housed the Sage Moon Gallery and the Hardware Store Restaurant are part of the six percent that sit vacant.
But part of the change is national chains, like Urban Outfitters moving into store fronts. Java Java is under new ownership and the owner says he invested in the space because of the uniqueness and diversity of Charlottesville's Downtown Mall.
Downtown store owners say they've heard about potential new owners looking into vacant spaces. Also, they say they're confident business will pick up when the bricking is done. They say there is reason to celebrate because the process is moving much quicker than anyone anticipated.