Charlottesville Cane's Helps 'I Have a Dream Foundation'
Posted:
Updated: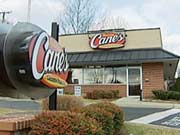 A group that's promised to help Charlottesville school kids make the most of their education and their lives is hoping for your help.
The "I Have a Dream Foundation" is partnering with raising Canes on Emmet Street to raise money for the children to visit colleges and tour New York City. A portion of the proceeds from combo meals sold Monday and Friday of this week will help pay for that trip, if "I Have a Dream" is mentioned.
"Our field trips are really important because they get our students out of their community and gets them thinking about the big world that's out there and thinking about the possibilities that can be...and there's no better place in my mind than New York City to really light up someone's imagination," said program director Erica Lloyd.
I have a dream began working with the kids when they were at Clarke Elementary. They are now 9th graders at Charlottesville High School. They will also hold a fundraising yard sale Saturday at CHS.
Reported by NBC29 HD News