Dust Troubles Downtown Mall
Posted:
Updated: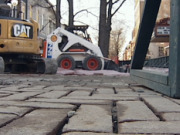 Downtown dust is troubling those who use Charlottesville's pedestrian mall. That coupled with loud noise is causing some to speak out.
As crews wrap up construction on Charlottesville's Downtown Mall for the week, there is a growing concern about dust and noise.
"I experienced a good bit of noise and a good bit of dust when there was a lot of sawing done right in front of my office," said Ralph Feil.
Ralph Feil works on the mall and has had a front row seat for all the construction. He says dust becomes a concern on the mall when construction crews saw cut the drainage runnels. That also brings a lot of noise, which can echo off the fronts of the buildings.
"Most people are tolerant of the inconveniences caused by this project because it's a needed project," said Feil. "It's good for the economy and it's going to make the Downtown Mall a lot more convenient and a lot prettier."
"It's not been a problem. I'm retired construction so that's not that big of a deal," said Denton Middleton of Staunton.
To help, the city has asked the contractor to spread out that type of work and not concentrate it all in one area. The city is also asking the contractor to use as much water as possible when cutting and not to use a blower to clean up the dust.