Group Concerned about Mall Renovation
Posted:
Updated: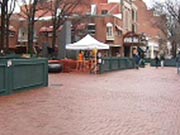 The renovation project on Charlottesville's downtown mall is being criticized by a preservation group. They are raising concerns about what the improvements may cost the city, not in dollars, but in history.
Preservation Piedmont has worked to get the mall listed on the National Register of Historic Places. The renovation project could spoil that effort.
"The original character and aesthetic has been so changed in our view, in the preservationist view. It has been degraded by the plans for replacing every brick, eliminating mortar joints, and fundamentally changing the original character and aesthetic," stated Dan Bluestone with Preservation Piedmont.
City officials say the mall plan has been decided, contracted and started, and responding to Piedmont's concerns would only start a debate that's not worth having.