Campaign for the Commonwealth Center
Posted:
Updated: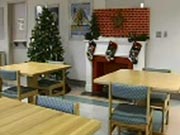 Families across Virginia are on a crusade to keep the Commonwealth Center for Children and Adolescents in Staunton from falling victim to state budget cuts. Governor Kaine's most recent round of cuts proposes closing the only state-run mental health hospital for children and teens.
Julie Irvine's nine-year-old son Gabe started his stay at the Commonwealth Center on Christmas Eve. "It's the only option," Irvine said.
Irvine keeps a pile of paperwork from school reports of Gabe's violent outbursts to insurance denials and discharges from private hospitals. "He has hurt a teacher before," Irvine said. "He has choked students before."
That paperwork also includes a drawing Gabe did during his stay at a private hospital. She says it depicts a cartoon character with bullet wounds and blood. "It scares me. I have no words for it," Irvine said. "I didn't sleep many nights because of it."
Private care providers sent Gabe home when insurance and treatments ran out of time for their temporary care. "There's more to Gabe than all these things, but there's no help," Irvine said.
Another mother, Mary, asked us not to use her last name to protect the identity of her now grown-up, college graduate son. Mary's son went through the same experience with private providers a decade ago.
"He was falling apart very badly," she said. "He has really had to climb out of a big hole."
When Mary's son was 17-years-old, he was depressed and suicidal. Mary feels private caregivers failed her family. "They had already told me that he would be in a hospital for the rest of his life," Mary said. "I felt like he had died."
That is, until her son's insurance ran out and the Commonwealth Center's team of psychologists, social workers, and teachers took over his care. "You would hear how he's doing from all these different viewpoints, and where you want to go, and what's the plan to get there," Mary said. "It started us on the road to recovery."
Both mothers are now on a mission to save the center that, they say, saved their sons when there was no where else to turn. "I think the mental health system has been getting better, and I see this as a huge step backward," Mary said.
Irvine agrees, "This is bigger than saving just Gabe. This is the last resort for almost all these kids. They have nowhere else to go."
Irvine is sending "Save Gabe" letters to lawmakers across Virginia and in Washington. Families will have a chance to plead their cases with state mental health leaders at the center on Wednesday.