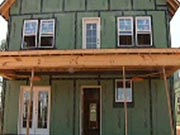 2008 proved to be an award winning year for Charlottesville and Albemarle County when it comes to environmental awareness, programs and results. Now they're making strides to go even greener this year.
Charlottesville pulled in awards for recycling, the LEED certified downtown transit center and green transportation in 2008. As written in the city's vision statement, Charlottesville is and will be a green city.
Now, Charlottesville and Albemarle have formed a joint effort to tackle climate change and greenhouse gas emissions in 2009. Tackling climate change is no small or quick task. Officials will have to plan, and form committees to look at where and how to cut back.
"In the end, you look at things from the amount of energy that it uses or the emissions that are associated with it, you start bringing a lot of different programs together," stated Kristel Riddervold, Charlottesville Environmental Administrator.
A lot of the process involves teaching personal responsibility for conservation, perhaps giving people and businesses money for cutting back on energy consumption. "Some of the things we have to accomplish are developing incentive programs for residents letting them know first and foremost how they can use less energy and then creating incentives for them to use less energy," said Sarah Temple, Albemarle County Environmental Manager.
Among the other green initiatives in Albemarle County are more hybrid cars, more compact florescent lights and systems where the lights only turn on when people are in the room. Charlottesville and Albemarle County are also working with the University of Virginia to put together a regional committee to tackle these issues.