Va. Electoral College Vote Grabs Attention
Posted:
Updated: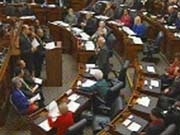 Across the country Monday members of the Electoral College cast their votes for president. The ceremony is an essential part of our nation's democratic process. But this year it's getting special attention.
Monday, Virginia's 13 representatives to the Electoral College cast their votes for Barack Obama, reflecting Virginia's popular vote last month. The Electoral College meets following every presidential race. Typically the pomp and circumstance go relatively unnoticed, but not this year. "Today is an important day for Virginia and for our nation," stated Virginia Governor Tim Kaine (D).
This time around, the process is important because the electors voted for America's first black president and because it's the first time in 44 years that the man selected by Virginia's electors is a Democrat.
Those who attended the ceremony say the votes cast in Richmond represent a new trend across the Commonwealth. "That the demographics of our state have significantly changed and that we are becoming more moderate and progressive," explained Richmond mayor-elect Dwight Jones (D).
It's a trend that Kaine says we should all be proud of. "This temple of democracy shines very brightly today," Kaine stated (D).
Although the ceremony did draw a significantly larger crowd to the Capitol Building than Electoral College meetings in years past, it didn't yield the thousands of onlookers that some groups expected.