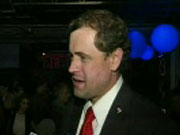 He may not have officially won Virginia's fifth district seat yet but Democrat Tom Perriello is in Washington D.C. learning the ropes. Perriello is attending a week long orientation for new congress members.
Since Election Day, Virginia's fifth district race for congress has been tight. Perriello is now leading by 745 votes and while the results are not official until next week, the first time politician is treating it like a win.
Tom Perriello is in Washington this week getting used to what could be his new job. "This is an exciting and daunting time," he related. "They have us in full-fledged orientation and we are figuring out committees and we're getting used to the processes so I can hit the ground running on day one."
Perriello says the orientation for new congress members has been centered on the fusion of both parties. "Part of what's been great is that they've done most of the orientation with the Republican and Democrat members together," he stated. "Trying to send a signal of bipartisanship, learning, going through the ethics rules and codes of conduct and processes of setting up district offices and D.C. Offices."
A tumultuous few weeks followed the election and now Perriello leads incumbent Republican Virgil Goode by more than 700 votes. But he says he is putting the election behind him and looking ahead to being a freshman congressman.
Perriello stated, "We'll respect whatever decision Congressman Goode makes from here, but we are moving forward, focused on the transition and getting ready to be in congress."
Perriello will finish this week's orientation then come back to the fifth district for some meetings with his transition team.