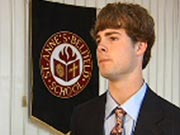 He comes from a football family and he's been a star quarterback at Saint Anne's Belfield the last few years but Wednesday, Howie Long made it official: he's choosing a different sport for college.
Wednesday, Long signed his letter of intent to play college lacrosse at the University of Virginia. Long just picked up the sport a few years ago but quickly has become a very good defenseman.
Long says he looked other schools, but with Virginia having a great academic reputation and an outstanding lacrosse program, and being close to home, it was an easy decision.
Howie Long said, "I can go home if I want, get a home cooked meal from Mama Long, and just being able to have my parents go to every game is going to be awesome."
His dad, Howie Long, said, "More important than the athletic side of things, I think you want to hand your son off to a coach that four years later your son will be a better man, and better for the experience, and that's the case with Dom [Starsia]."