Potential 5th District Recount Protocol
Posted:
Updated: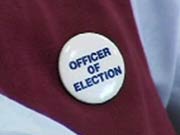 When the state certifies the final Fifth District numbers, it's expected that the losing candidate will ask for a recount. It's a situation the state's familiar with, but many voters aren't familiar with how the process works.
There is no "automatic" or "mandatory" recount. If the results differ by one percent or less, the losing candidate can formally request a recount in court. If the difference is less than half of a percentage point, the same candidate still has to make a request and the state will pay for it.
Two days after the election, there are still no final results for the Goode – Perriello race. "This is day number two and we're still going through the process," stated Charlottesville Voter Registrar Sheri Iachetta.
If and when a recount occurs, it's different every time. According to Iachetta, electronic ballots can be "re-counted" by re-reading the cards that hold the results or just by going over the statement of results again. Paper ballots will most likely go through a tabulating machine again.
"The court is the one that ultimately decides what the procedures are going to be based upon whose involved and what machines are involved and it's still real unknown right now," said Iachetta.
James Alcorn with the Virginia Board of Elections explained, "During the legislative session we always talk about recounts and then this past summer the state board of elections actually updated their standards on hand counts, which would occur during a recount."
The Commonwealth is no stranger to recounts. In 2005, Republican Bob McDonnell and Democrat Creigh Deeds fought fiercely for Virginia's attorney general seat in one of the state's closest races ever. More than 1.9 million people voted and just 323 votes separated the candidates. Senator Deeds asked the state for a recount, which reaffirmed that McDonnell came out on top.
Election offices in the 18 counties and four cities that make up Virginia's Fifth District have until next Wednesday to finish canvassing. Then, on November 24, the state will certify the final results. If the numbers are separated by less than one percent, the losing candidate has 10 days after that to ask for a recount.