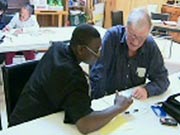 Churches are usually for worship services but one Charlottesville church has become an extension of classrooms across Central Virginia. Students from grade school through "fourth year" are reaping the benefits.
Zion Union Baptist Church is just one of the sites of the day in the Life Program at the University of Virginia that pairs students from intermediate school through high school with students from the university. There's tutoring, mentoring, and plenty of relationship building.
More than 25 students come to the church for tutoring every Monday and Thursday evening. They're met by about 20 UVA students each night. In most cases there's one tutor for every student. They get help in just about every subject from algebra to world history and chemistry to French.
For the students getting the tutoring, it's a way to get free help from people who have been where they are. "It helps me with chemistry. I have the biggest problem with chemistry, so it just helps me understand it more," shared Lauren Harris who is from Fluvanna County.
Tutor Khaled Boukadoum said, "...Now that I'm in a position where I can help others, I feel that it's important that I can come out here, use my skills to help people who have some difficult material that perhaps they can't get help from from their teacher."
The church provides a meal at the end of every tutoring session. Tutoring at Zion Union and every day in the Life site is totally free for students. For a list of all tutoring sites for the program, read below:
Bethel Church of God in Christ
Buford Middle School: Scholars Program
Burley Middle School
Burnley-Moran Intermediate school tutoring
Charlottesville Abundant Life Ministries (CALM)
and Buford Academic Mentoring (BAM)
Charlottesville High School Scholars Program
Charlottesville High School After-School Tutoring
Charlottesville High School- entire school, math and science during hours
Community Attention Home
Evergreen Ministries
Observatory Hill Tutoring/ Forum Room
Hope Foundation
Walker Upper Elementary: Walker Scholars
Walker Upper Elementary: Learning Lab.
Westhaven Community Center
Zion Union Baptist Church: After school tutoring
Oak Hill Program: Buford Middle School (Summer 2008 - Spring 2009)
Bernard Harris Summer Science Camp/Engineering School