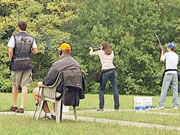 A University of Virginia fraternity hosted a charity trapshooting tournament Saturday in Charlottesville to help raise money for the UVA Children's Hospital.
Pi Kappa Alpha expected about 100 people to participate in the "Klays for Kids" tournament, which was held at the Rivanna Rifle and Pistol Club.
Club members supervised and scored the inaugural competition. Fraternity brothers say they hope the event is the first of many.
"We're trying to make this our annual philanthropy event. If this goes well -- and it seems to have gone well so far -- we hope to be contributing more and more in the future," event organizer Max Chevalier said.
Entrants paid $20 each for shotgun shells, a t-shirt and lunch.
Fraternity members say they raised about $2,500, which they hope will go toward a new expansion project at the children's hosptial.