Writers Create Space to Connect and Learn
Posted:
Updated: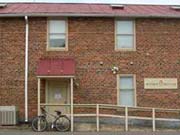 You may see writers around Charlottesville typing away at a coffeehouse or in the corner of a bookstore. But a group of writers have created a place of their own so they can write connect and learn from each other.
From classes to workshops to just a quiet place to think and create, Writer House is a place for authors to get away from distractions and focus on their craft. Its founders say Charlottesville is the perfect place for it.
Rachel Unkefer, who is working to become Charlottesville's next great novellist, said she and other writers she works with had trouble finding the right environment to help their creative juices flow. So they made one themselves.
"A lot of people write in coffee places or they write in public areas and there really aren't any good quiet places to go. And we talked about it from time to time and one day we said, 'let's stop talking about it; let's do it,'" rememberd Unkefer.
They founded Writer House, a community center specifically catering to writers. At the center, the writers try to refine their craft and learn from others. Writer Christy Strick says, "It helps you kind of get an outside view because you sometimes work in a vacuum. You're by yourself and you work in your head and you don't really know if something works or not."
Unkefer says the group dynamic really keeps her on track to finish her novel and make it as good as it can be. "It really keeps me going because I think it would be very difficult for me to keep myself going if I didn't have some accountability and that's what a group of writers provides accountability for me," shared Unkefer.
Writer House's fall classes kicked off this weekm including courses on creative non-fiction and several fiction workshops. If you'd like to learn more about Writer House, click here to visit their website.