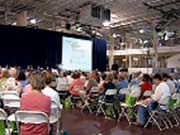 The ACAC Fitness Center and the University of Virginia Institute on Aging hosted a panel discussion Tuesday afternoon to explain the latest research on aging and exercise. Close to 200 people showed up for the discussion at the fitness center at Albemarle Square.
Although Charlottesville has been rated a healthy place to live and retire, the community still has work to do. According to Institute on Aging Advisory Board member Dr. Art Weltman, "There are a lot of things that Charlottesville sort of mimics the rest of the country in terms of promoting in activity. We've basically engineered activity out of society."
Weltman's advice is to exercise at least 20 minutes a day. He says you can do any exercise you want as long as you're up and moving.