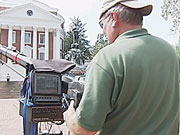 A two-day global economic summit is drawing financial leaders from throughout the world to the University of Virginia.
UVA's Miller Center is bringing in former finance ministers from around the world to make recommendations for how the markets of the future should handle the credit crunch and respond to major changes in emerging economies.
"It's about volatile commodity prices, and that includes what you're paying at the pump for gasoline prices or what you're paying at the grocery store for food staples," said Tim Nelson, a conference advisory board member.
"It's about a severe credit crunch that determines whether you get a home loan or a car loan or a student loan, so it affects a gammet of issues that affect real people."
Former Virginia Governor Gerald L. Baliles and former U.S Treasury Secretary John Snow are hosting the summit.
CBNC's Squawk Box morning show broadcast live from the Rotunda Sunday. Watch the summit on the Miller Center homepage.
The event continues through Tuesday. It falls one month before the International Monetary Fund and World Bank meetings in Washington, D.C.