Shakespeare Center Founders Celebrated
Posted:
Updated: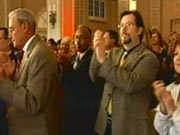 Wednesday night, Staunton celebrated two men who put a city stage on a global map. Ralph Cohen and Jim Warren co-founded the American Shakespeare Center. Now, the Commonwealth is honoring their contribution to Virginia Arts with a rare recognition.
The two men will receive the Governor's Award for the Arts. It's only the third time in 30 years that a governor has given out this honor. The theater leaders received a standing ovation.
To be or not to be? That was the question Cohen and Warren faced at the beginning of their quest to bring the Bard's works to a Staunton stage. Warren insisted, "We didn't find Staunton. In some ways Staunton found us."
The pair co-founded the ASC as a traveling troupe of actors 20 years ago. In 1995, Staunton city leaders offered the idea of settling down on a home stage. "They made a dream work," said Cohen.
Seven years ago this month Shakespeare's plays were performed for the first time at the Blackfriars Theatre. This September, Virginia is recognizing Cohen and Warren for their contribution to the arts in the Commonwealth.
Cohen shared, "I've been overcome with how far you can move and how fast if you have the right friends and the right community."
While they credit Staunton for their success, the pair's dream has made the city a destination for a quarter million theatre goers. Those visitors spurred the revitalization of Staunton's historic Stonewall Jackson Hotel next door.
"For this cultural renaissance to take root that was already going on in Staunton, but along with us it's just continued to blossom," said Warren.
But if you ask these two men that blossom is just budding. Cohen and Warren's current vision will build a recreation of Shakespeare's second Globe Theatre in Staunton by 2014.
"We'll be the only place in the world where his outdoor theatre and his indoor theatre are in the same spot," predicted Warren.
Cohen added, "I think we can be the great theatre city of America."
Cohen and Warren say that project will take contributions and support from Shakespeare fans across the country. The two men will receive their Governor's Award later this month at a ceremony in Richmond.