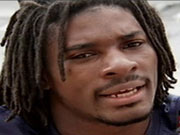 It seems like just yesterday he was quarterback at Gretna High School. Now Vic Hall is in his 4th year in the UVA football program and one of the team's captains.
Hall says he knows he has to be more of a vocal leader this season. His transition from quarterback to defensive back hasn't always been easy. He struggled at times last season but he's penciled in as a starter this year and says he's learned from the past.
"I learned a lot from last year, all the mistakes I made. I took a lot from the games, and learned from other players, too. I'm looking forward to showing what I've learned and put it towards the actual game," shared Hall.
Hall shares the captain status with Cedric Peerman and Clint Sintim.
Reported by NBC29 Sports