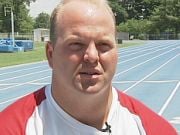 Adam Nelson's been living a double life for some time now. He's hit the books as a graduate student at Virginia's Darden School of Business, and by day he's a two-time Olympic shot putter.
They call him Mr. Intensity.
"I get the crowd going with a little clap, and then something clicks inside me the second I pull my shirt off--I just become a whole different person," Nelson said.
Nelson's third shot at Olympic gold almost never happened. Last month in Eugene, Oregon he was in fourth place heading into his final throw--he needed to be third.
"I'm not going to lie. It was pretty nerve-racking for me. But on my fourth throw I was able to put one together that ultimately put me into third place," he said.
Now with less than three weeks before the Beijing games open, Nelson continues to train.
In the previous two Olympic games, he missed the gold medal by a total of just three inches. He's hoping that maybe this year his trip to Beijing will be a golden one.
"When I am at my best--when I'm throwing well, feeling great, and the weather is perfect, when all those conditions come together at the same time--there is nobody in the world that can beat me," he said.