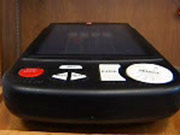 Big problems could be on the horizon in Charlottesville come November's presidential election. The city's voter registrar says there aren't enough voting machines and they can't order any more because of a state law. In that law, areas such as Charlottesville can't get new electronic election machines, which is what the city uses.
The law went into effect last year and the city was fine last year. But with an expected 80 percent turnout of registered voters, Charlottesville's voter registrar says she doesn't think she'll have enough machines.
The registrar says they usually rent eight electronic voting machines for a presidential election. "I'm concerned because I know that there are going to be long, long lines. Do you know that we have five thousand more people in Charlottesville than we did in 2004? We really do," said Charlottesville Voter Registrar Sheri Iachetta.
A registrar in Richmond even petitioned Virginia's attorney general on the issue, but he sided with lawmakers.
Another big problem for Election Day is parking. City officials say they're trying to get people to use buses on Election Day. The registrar says parking lots, especially at polling places such as the Rec Center in downtown Charlottesville will be packed all day long.
As far as the county, Albemarle officials say they also expect a large turnout on Election Day, but they believe they have enough machines to handle the crowds. The county also plans to have 350 election officers on hand to help. That's a larger than normal amount of people. Those officers will also have twice the amount of training than usual.